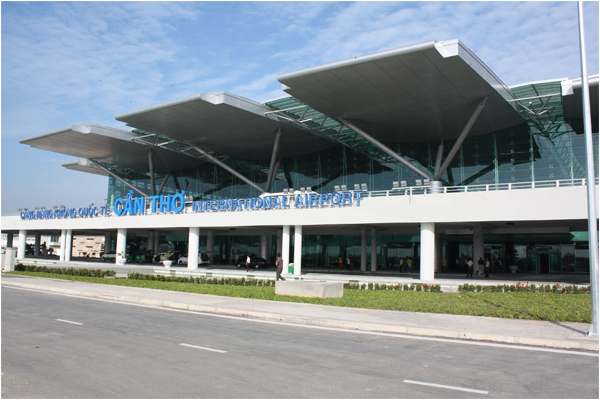 Can Tho International Airport
Can Tho International Airport lies along Hau Giang river. The east end of the airport is 700m away from Hau Giang river; the North end is 500m from Tra Noc irrigation canal while the West is adjacent with Ba Ly irrigation canal. Can Tho International Airport has very important position in the economic, cultural, social, security and defense for the Can Tho city and the region, promoting the development of the provinces in Mekong Delta.
Can Tho City is the center of economic, cultural, social, tourism and services of the Mekong Delta, and the gateway to the whole region. It is also the big service center having a fast developing pace and the bridge for the region's regional and international economic integration. The city has been both important for socio-economic as well as national defense and security "Building up Cần Thơ" to be one of the national large cities and a major socio-economic center of Mekong Delta region; an industrial, commercial services center; an important transport hub for domestic and foreign goods; one of the culture, education- training, tourism, science- technology centers in the Mekong Delta areas. It is a strategic locality for national defense and security of Southern West region and the whole country.
Can Tho Airport (previously known as Tra Noc airport) was built in the 1960s with runways 1800m x 30m. Before 1975, Can Tho airport is the airbase of the Republic of Vietnam and the US Air Force to use in the Mekong Delta. After 1975, the facility was initially unused, then later operated as a small regional airport for Can Tho city and managed by The Ministry of Defense.
The airport upgrading project was  started on April, 09, 2005 and is divided into two phases. Phase 1 upgrade and renovate runway and passenger terminal building design with 500,000 domestic passengers per year. Inaugurated in Jan 2009 with runway 2.400m long, 45m wide, capable to handle medium range aircraft like A320, A321, B767 or equivalent, linking Can Tho to Hanoi and other localities.
Phase 2 of the Can Tho International Airport renovation project was inaugurated on Jan 01, 2011, the terminal building with total floor area of 20.750m2, serving 3-5 million per year, with the runway dimension: 3000m x 45m, installation of night lighting, precision landing system ILS to afford aircraft such as B777-300ER, B747-400 or equivalent, linking Can Tho with the countries in the region and the world.